After finishing high fat meal you feel pain in your abdomen or under your right arm, followed by nausea or vomiting. You could be suffering from a gallbladder problem. Most common Gall bladder problem is because of gallstones. Removal of gall bladder is most common way of treatment of symptomatic gall stones.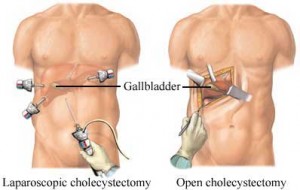 Laparoscopic Cholecystectomy

Open surgery requires a long cut through skin and muscles to expose the area to be operated. Laparoscopic or key hole surgery is less invasive.
Laparoscope is inserted into the patient's body through a small cut in the skin at the belly button.
Specially designed surgical instruments are placed through other small incisions.
Surgeon performs the operation watching the magnified images on the monitor via video camera.New buzz in laparoscopic surgery is single Port Access surgery- an advanced Minimally Invasive Surgical procedure in which the surgeon operates laparoscopically almost exclusively through a single small cut at Navel rather than multiple cuts. No stitching is required to close the opening.
Advantages Of Key Hole Surgery
Small Scar
Less pain
Shorter hospital stay
Early return to work
Risks of Laparoscopic Surgery
Anesthesia risks
Bleeding
Infection
Internal organ injury
Blood vessel injury
Vein or lung blood clotting
How Do I Prepare for a Laparoscopic Cholecystectomy?
First of all give a complete list of all medicines you are taking as well as any allergies you have to drugs and other substances. Let your doctor know if you have heart, lung or other medical conditions that may need specific attention before during or after surgery. One very important step in preparing for surgery is that you should not eat or drink within 6-8 hrs of surgery.


The procedure will done on an inpatient basis. You can be admitted on day of surgery in the morning or one day in advance before surgery. Get a family member to accompany you for the surgery. You will be seen by an anaesthetist.
What can You Expect During the Surgery?
What can Your Expect After Laparoscopic Cholecystectomy?
What are Postoperative Orders to be Followed?
Our Specialist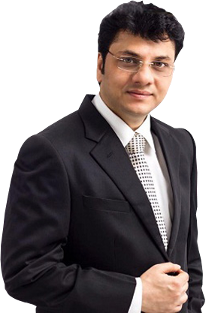 Dr. Nitish Jhawar
M.S., FMAS, FIAGES, FALS, FACRSI
Fellow Advance Laparoscopic Surgery
Fellow Colorectal Surgery USA
Senior Laparoscopic & Colorectal Surgeon
Phone No: +91 9322 229 159
Email Id: info@neoalta.com