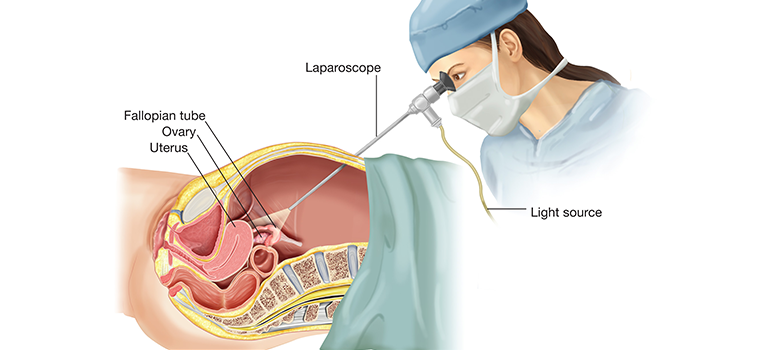 A Laparoscopic surgery is normally defined as a "minimal access surgery," indicating the tiny surgical incisions to gain access to the physical area of surgery.
This specialized surgical method was traditionally used for diagnosing infertility or removing an infected gallbladder. However, during the last 10 years, this surgery has been successfully used for treating other types of diseases like Hernia, Appendix, Diaphragmatic Hernia etc.
Laparoscopic surgery involves making tiny (0.5-1cm) incisions in the human body, through which a tubular instrument known as a surgical telescope is inserted to aid the surgery. The patient's abdomen is usually inflated with carbon dioxide to make the area of surgery visible. The laparoscope transmits images of the abdominal cavity to a video monitors with the help of a digital camera system in the OT. The video display of the surgical procedure is designed to help the surgeon perform the surgery better. The Laparoscopy FAQ contains some useful information on Laparoscopy, including preoperative and postoperative instructions for this type of surgery.
 The factors to consider before undergoing laparoscopy
In Laparoscopysurgery.org, the vivid description of a laparoscopic surgery can help you understand the surgical method and help you decide whether you will opt for this surgical method or not. The benefits of Laparoscopic surgery are many, and the most important benefit to the patient is probably the tiny incisions made during the surgery that help in quick recovery later. This informative resource provides a detailed discussion on the many advantages of conducting a laparoscopic surgery, such as less post-surgical pain, quick recovery, and less scarring.
The blog post about the main differences between a laparoscopic keyhole and open-cut surgery offers an interesting comparison between the two surgical methods.
If Laparoscopic surgery is the answer to your health problem, then the next factors to consider are:
Your budget for the surgical procedure
Selecting a highly reputed Laparoscopic Surgeon
Selecting the best hospital in your location
The second and third considerations are closely interlinked as the top Laparoscopic Surgeons have a selection of hospitals they work with. You have a choice of selecting a hospital and a Surgeon within your location, or if your budget permits, you may even decide to travel to another destination for better surgical facilities. The medical tourism site talks about the best medical facilities in India like Fortis Hospital conducting laparoscopic surgery.
 The best laparoscopic surgery clinic in India
Neoalta's laparoscopic surgery clinic, provides consultation with top laparoscopic surgeon and highly advanced Laparoscopic (keyhole) surgery conducted at Fortis Hiranandani hospital in India. The Laparoscopic Surgeons at Neoalta have wide knowledge and expertise in the field of laparoscopic surgery, and have conducted laparoscopic surgery for appendix, gallbladder removal, pancreas, Hernia repair, GERD, and colorectal cases. You can review how laparoscopic surgery is used for removing gallbladder stones in this post: Laparoscopic gallbladder removal surgery.